Back to all posts
Posted on
Top Fundraising School for Terry Fox Run!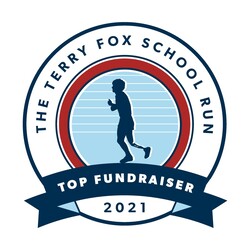 We received notice from the Terry Fox Foundation that our school has been placed on their "Top Fundraising Schools of 2021" list!
To help celebrate your fantastic success, we were given a digital Top Fundraiser Badge! We want to share our Terry Fox pride and achievement with our entire school community. It serves as a reminder of the unwavering commitment and passion your school has demonstrated in the fight against cancer. 
"As we embark on the 2022 Terry Fox School Run this coming fall, thank you for your continued support and we look forward to working with you once again. It is an honour that Terry's story of courage and determination continues to be taught, shared and used as an example of the best we can be, not only as individuals but also as Canadians." ~ Oscar Andrade Terry Fox School Development Officer