Back to all posts
Posted on
2022-2023 Registration Open!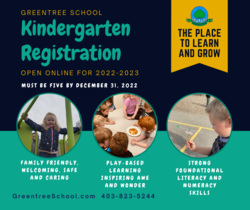 We are always excited to meet new students and their families! 
Kindergarten students registered before May 1, 2022, will receive a 'Ready for Kindergarten' kit. 
Please remember students will need to be 5 years old by December 31. 2022 to register. 
New-to-us families can create an account: Create Account
Families who have students already attending can log into their account: Login
Call the school (403-823-5244-) with any and all questions!